Tag: time wave
by Brad Johnson on Jul.08, 2010, under Most Recent Blog Post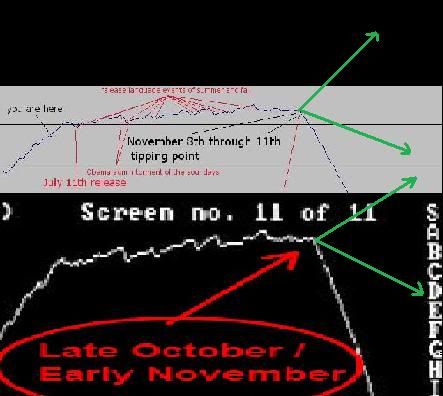 (For background on where these two graphs originated, read my previous blog post about it by CLICKING HERE.)
I was just reminding myself of what I have learned first hand about the true nature of the play out of events in "material" reality. A while back I actually had a strange experience during meditation where over about a 1/2 hour interval I was allowed to view parallel timelines from the perspective of my parallel selves.
This reminded me that any time there is a shift in consciousness we choose not only how to manifest it (consciously or not) we also choose which parallel timeline to experience what we have manifested.What if that point in the graph where it dives off is where the bifurcation of the time streams begins to occur?
Right now people have parallel selves on both the negative and positive subsets of timelines. Perhaps the predictions are about to manifest where people begin to drop off of one of these subsets of time streams or the other.
Not disappear like rapture or some bull **** like that. I mean that if people have chosen the path of fear, the perhaps the parallel selves that they have on the positive time streams will perish some how.
Then the opposite where if you have chosen the path of the absence of fear then the parallel selves you had on the negative time streams drop off of those. I am just throwing the theory out there, not a prediction.
Even if it where true, it would be impossible to prove even when it is happening. I believe that this is the degree of strangeness we are moving into here in the run up to the compression of time.
This two month gap where there is only one trend in the linguistics of the web bot graph and the corresponding dip in the time wave zero graph may be the gradual separation of the time streams. It has always been our choice as to which time stream we exist on.
However, if the predictions that are tangent from all areas of the world are true about two distinct realities manifesting it would make more sense to me anyway that this would not be an all of the sudden event.
If people start dropping off during that slope in the graph, the reason may very well be what I have outlined above. We will see, this could all just be conjecture. Don't hold me to it. Just like I stated, it would be impossible to prove it even when it is happening.
7 Comments
:bifurcation, new earth, time streams, time wave, Web Bot
more...